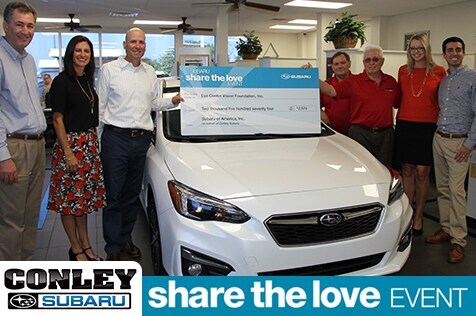 ​
At Conley Subaru, we believe in positive force in our community, which is why we're a proud supporter of the Subaru Love Promise. The Subaru Love Promise is designed to help make the world a better place through sponsoring different charities and organizations each month out of the year. Both locally and nationally, Subaru supports different initiatives and fundraises money and awareness for many different organizations that are designed to help those in need in our communities. With a variety of different causes, including Subaru Loves the Earth, Subaru Loves Pets, Subaru Loves Learning, and Subaru Loves to Care. Together with Subaru, we're dedicated to helping raise money for many charities and organizations to help people in need throughout he year.
Subaru Loves the Earth
The Subaru Loves the Earth initiative is designed to help reduce waste and safeguard earth's resources for future generations. All Subaru products are manufactured in zero-landfill production plants to help do their part. Subaru partners with many different organizations and initiatives, including the National Park Zero-Landfill, Klean Kanteen, Leave No Trace and others.
Subaru Loves Pets
The Subaru Loves Pets initiative is designed to keep all animals, including those in shelters, healthy and safe. The month of October is the Subaru Loves Pets month, and at different dealerships, including our Bradenton Subaru dealerships, you can donate pet supplies for animals in need. Since 2015, the Subaru Loves Pets initiative has partnered with local animal welfare organization to impact over 144,000 animals.
Subaru Loves Learning
The Subaru Loves Learning initiative is designed to make learning as accessible as possible for everyone. Subaru partners with the American Association for the Advancement of Science, Google Expeditions, Teach for America and many others.
Learn More About the Subaru Loves Promise Events Taking Place at Conley Subaru!
We're a proud supported of the Subaru Loves Promise Initiative and we invite you to experience them for yourself and learn more about how we support the community by making the quick trip from Sarasota or Lakewood Ranch to take part in them throughout the year.