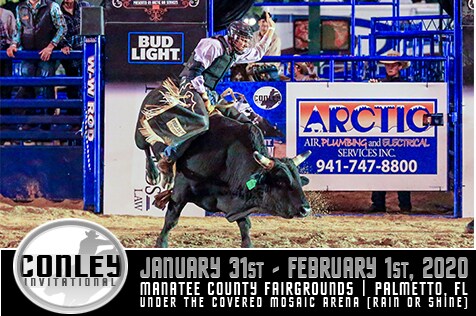 The 10th Annual Conley Invitational Premier Bulls Tour Finals presented by Arctic Air Services will be held January 31st and February 1st at the Manatee County Fairgrounds under the covered Mosaic Arena located in Palmetto, Florida. This is a rain or shine event and most importantly benefits the 4H Club of Manatee County. The 2019 Premier Bulls Tour Champion will be crowned at the end of this event.
Bull Riders from Texas, Louisiana, Tennessee, Mississippi, Alabama, Georgia, and Florida have competed throughout thirty events in the Southeastern United States to get to this event.
Make sure to bring your family to the Conley Invitational! Visit the Conley Invitational site to learn more, and find out more about how Conley is invested in the local Bradenton and Florida community here.