The 2022 Subaru Love Promise Community Commitment Award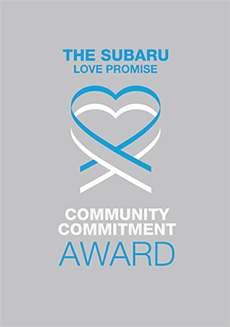 We've been nationally recognized for our dedication to our community and the Subaru Love Promise.
We're honored to receive the 2022 Subaru Love Promise Community Commitment Award. This award nationally recognizes Subaru retailers who are making the world a better place while demonstrating an outstanding commitment to supporting passions and causes in local communities. These efforts are focused in important areas such as the environment, community, health, education, and pets.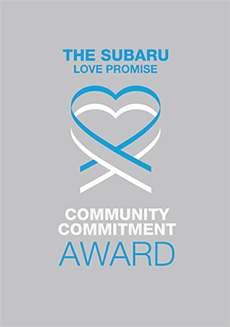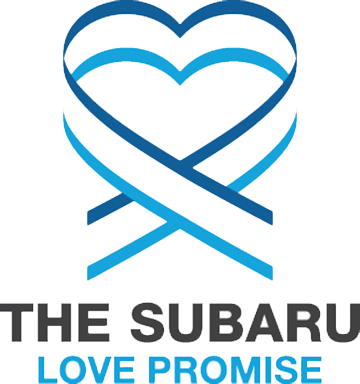 What is the Subaru Love Promise?
Subaru and our retailers believe in making the world a better place and the Subaru Love Promise is our vision of respecting all people. This is our commitment to show love and respect to our customers and to work to make a positive impact in the world.
How is Conley Subaru dedicated locally to the Love Promise?
Conley Love Promise can be seen in various partnerships with local charities and non-profits. We're grateful for the opportunity, not only to be a part of our community, but to serve it as well. Conley Subaru's goal is to build relationships with our customers. We strive to create an atmosphere that is inviting, an experience that is rewarding and a process that is easy to do business with. We want our customers to feel value. Conley Subaru wants to build value and reasons why to do business with our company. We always try to inform our customers of our driven processes to give our customers a consistent consumer process. We will always try to be efficient and respectful of our Customers time and build trust and honestly to create the best Customers experience. Conley Subaru one family, one town, one dealership since 1966. Conley Subaru where we treat you like family.
Humane Society of Manatee County, Human Society of Lakewood Ranch, Puts for Muts
4-H Clubs Of Manatee County, Fit to Run Robinson Preserve 5k , Costal Conservatin Assoc
Moffit Cancer Center, Callaghan Tire Pro Am , Toy for Tots, Eye Center Vision Protection
Florida Cancer Specialists & Research Institute Bradenton
Love Promise Stories from Conley Subaru
Subaru and Conley Subaru believe in making a positive impact on the communities in which we live and work. We uphold that belief through our Love Promise Community Commitment. Every month, we select inspiring stories from customers and partners from around our area who strive to support our collective commitment and feature them here
Exemplary Service - Mike W
Hello Tim, Please share this with your bosses and the Conleys. I'm currently ordering my third Outback from Conley Subaru, only because of the exemplary service you extended to me on my current Outback. I appreciate it greatly. Regards, Mike Weaver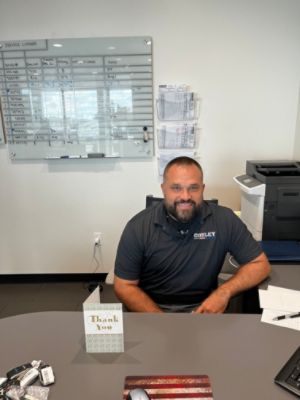 ---
Helping in a time of need - Lisa B
Due to my restriction from driving (and my husband in the hospital,) Brian helped me choose the perfect car remotely and even drove it to my home 40 miles away for me to see it. His recommendation was perfect for our needs. He also delivered the car when the purchase was made!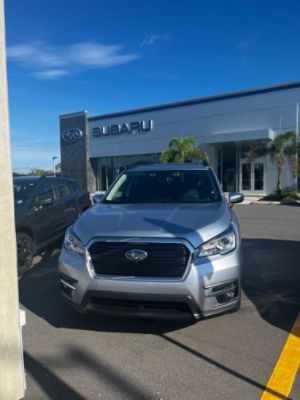 ---
Stress free environment - Valerie A
We had been looking at Toyota 4 Runners and had pretty much decided to purchase one. We drove a rental Subaru on vacation which peaked our interest. While we were in the Bradenton area we decided to drop by just to take a look. My husband said he would sit in the car because he absolutely detests sales people. A very nice young man named Zach approached me and within minutes he made me feel comfortable and I knew I could trust him with no hard sales pitch. My husband got out of the car begrudgingly and immediately hit it off with Zach. Zach just stuck to the facts, told us all the information on the vehicles explained the comparisons and that was it . Because of Zach we know that we will be purchasing a new Subaru in the next two months and although Zach is about an hour away from where we live, it'll be worth the drive!! We will be purchasing our new Subaru and all cars in the future from Zach! He's one in a million!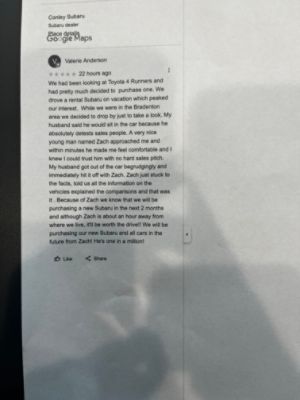 ---
Robinson Preserve Twilight 5k/10k - Alexis P
We can't thank Conley Subaru enough for their continuous support for our Robinson Preserve Twilight 5k/10k each year. They have been our Presenting Sponsor for the past couple years and allow us to do packet pick up at their Conley Subaru location. This year, we were able to bring back our after party at the Robinson Preserve in Bradenton to make it a fun event! Conley came out with a great set up to create an interactive environment for runners. All of the proceeds from the race benefit the Big Bill Foundation, which gives scholarships to children who have fought or are fighting childhood cancer. Without their help, the event wouldn't be possible. A huge thank you to the Conley team!!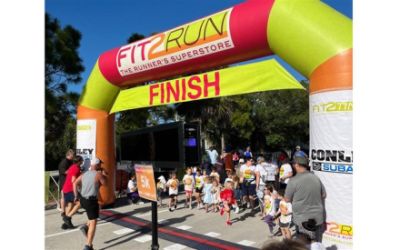 ---
Stewart Elementary Run for the Stars - Brian E
Big Thanks to Conley Subaru for supporting our 5K race benefiting Stewart Elementary! Conley's continued support ensured a successful event. The 5K race brought together not only school families but also neighbors and running enthusiasts. Thanks to your sponsorship the students of Stewart Elementary have learned that strong communities are built with events like these. THANK YOU CONLEY!!!!!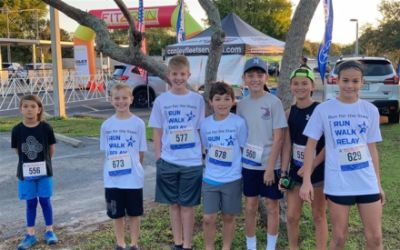 ---
S.O.L.E. 5K - Nate B
S.O.L.E. - Supporters of Law Enforcement is an organization dedicated to being there for law enforcement officers in times of illness or crisis. The founder is a 20 year law enforcement officer who fought cancer and survived crediting a strong support system for helping him achieve a path to wellness. Conley has been there for law enforcement officers in the community by supporting events and contributing repeatedly financially to ensure these heroes in the community are supported. Thank you to the Conley Team for your unwavering support!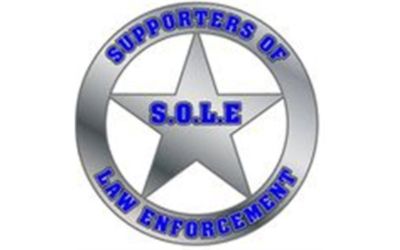 ---
Jessie Thanks Conley Subaru - Cynthia J
October was Subaru Loves Pets month. This year Subaru was focused on getting Underdogs into forever homes. We are so thankful that Conley Subaru sponsored our shelter for this event. They are donating $100 to the Humane Society at Lakewood Ranch for each of the 23 dogs and cats that were adopted. We so appreciate the Conley Family for their continued support. One of our special October adoptions was Jessie. Jessie is a senior Yellow Labrador Retriever mix. He was found as a stray by the local County Animal Services. No one came forward to claim him. When we brought him into our shelter, he was very thin and unfortunately tested positive for heartworm. Heartworm can be deadly. This costly and painful treatment takes four months with medications, a series of 3 injections, and very limited movement. The great news is that he finished his treatment and was adopted by a wonderful couple. Here's to a lifetime of love and fun with his new family! Thank You Conley Subaru for your continued support, as we strive to save dogs and cats in our local community!
---
Conley Subaru Share the Love Event! - Carrie B
It is with great pleasure to Thank Conley Subaru again for their generosity and support to the Moffitt Family. It was such a pleasure meeting with you all on Tuesday for the check presentation, seeing and chatting more about your community and connection to cancer research. My favorite part of working at Moffitt is the opportunity to visit with our network of supporters across the state. Our Moffitt community makes such an impact on the future of cancer care and prevention. That collective support helps provide hope to those who are still fighting the disease. I wanted to follow up to share a bit more about some of the breast cancer research underway at Moffitt. Your $27,429 share the love gift will help support the research described in the attached document. If you would like to learn more or need additional copies of this information for the dealership, please let me know. At Moffitt Cancer Center, the Don & Ericka Wallace Comprehensive Breast Program boasts a multi-specialty, full-service clinic that offers the latest in preventive care and support for all breast-related conditions. In a single location, our breast clinic provides patients with all of the services they need from a cohesive team of doctors and other experts who specialize in breast cancer. Thank you again - The Moffitt Family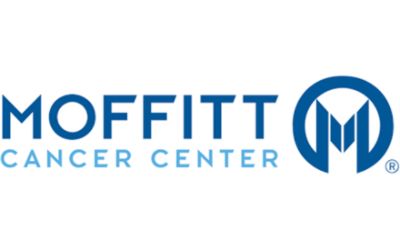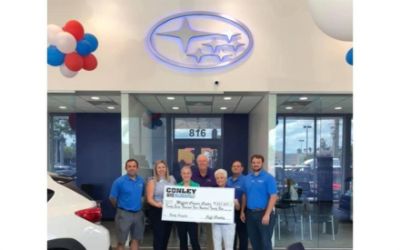 ---
Conley Loves the Earth - Brain G
Subaru loves the earth - at Conley Subaru we strive to impact our world for the better by helping to protect and preserve our environment. This starts at our local level which is why we support the costal conservation association of Florida. For over 12 years we have partner with CCA Florida. Conley Subaru recently partner with CCA Florida Manatee County Chapter to support their effort to restock our gulf coast redfish population and help preserve our environment. Through both financial donations and volunteer effort, Conley Subaru help with the release of over 2000 juvenile red fish last month at the newly remodel Robinson park in manatee county. Conley Subaru where we treat you and the environment like family!
---
Conley Subaru Supports the Fort Hamer Bridge Run - Ruthie S
The team at Conley Subaru was a great partner in presenting the 2020 Fort Hamer Bridge Run, in Parrish Florida. In 2020 the race organizers were challenged to find a way to continue the tradition of a live race in the heart of the Manatee County community, and give runners a safe opportunity to race live. Featuring a socially distanced staggered start, runners and walkers completed their 5K over the Fort Hamer Bridge, and celebrated their finish with the Conley Subaru team at the finish line. With the support from Conley Subaru all runners were provided a face buff, adding to the safety precautions taken by race organizers. Proceeds from the race benefitted 3 area organizations; Manatee County Youth Rowing, The Parrish Civic Association and the Parrish Community High School Athletic Boosters. These organizations worked together to produce the race and used the opportunity to promote local small business, by awarding runners gift cards to small business in their community. When charitable organizations, small businesses and runners work together, everyone wins. The Fort Hamer Bridge is a bridge to the heart of the community, and the race team is thankful for Conley Subaru's support in bringing the race to life in 2020.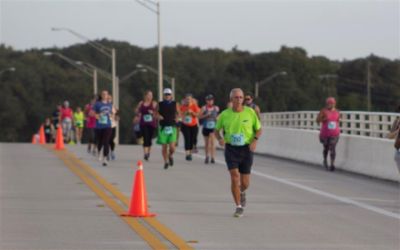 ---